How much do Dental Implants cost?
Many of our patients inquire about the cost of dental implants. Even though it is difficult to determine any cost without a complete checkup and consultation with the dentist, we understand that people are looking for an estimate so they can have an idea of the price range. This is why we offer free dental implant consultations at our office to review dental implant fees with you.
Cost of Dental Implants at Dena Dental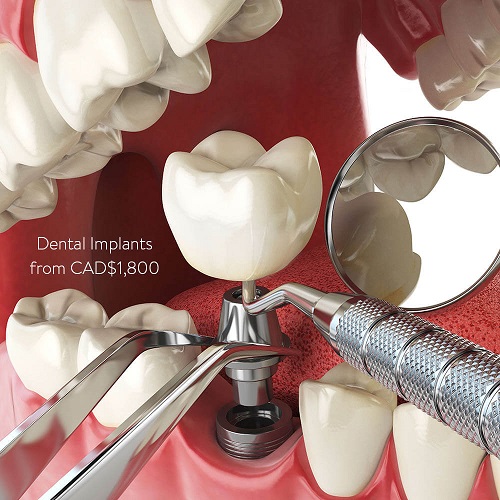 You may have noticed when looking around that dental implants can be an expensive investment! We offer implants starting at CAD $1,800 because we don't believe that finances should hold you back from getting the smile you deserve.
You have to consider that implant procedure consists of different parts, from bone grafting to placing the crown. All of these also depend on the complexity of your case and the quality of materials used. There can also be additional costs associated with CT scans, or Sinus Lift. Getting the crown made can have varied costs as it depends on the materials used.
Does my dental insurance cover the cost of implants?
Since implants is considered as cosmetic procedure, some components of the procedure may not be covered by your dental plan. However, some insurance companies may cover under Alternative Benefit Clause by substituting what they would pay towards alternative care costs (such as a bridge) towards the cost of an implant. We suggest you contact your insurance provider to find out if you have coverage for the treatment. Once this is determined, our staff would be more than happy to submit a comprehensive pre-determination to your insurance company on your behalf.